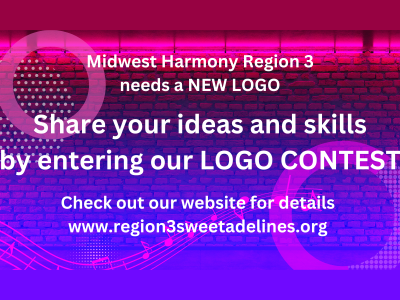 Calling all creative types in Region 3!
Midwest Harmony Region 3 needs a new logo, and you can help!
Share your ideas and skills by entering our LOGO CONTEST!
We need a colorful, snappy logo design that will look good on our website, along with all the social media platforms used by the Regional Marketing Team. Our new logo will also be featured on all sorts of regional items, such as T shirts, lanyards, etc., and on the Sweet Adelines International website.
Here are the RULES:
*Entry open to any member of Region 3 Sweet Adelines, including CAL members
*MUST CONTAIN THE WORDS: "Midwest Harmony" and "Region 3" in any configuration. Musical graphics are a bonus! 
*Entry must be in digital form with these parameters:
File type: JPG or PNG
Max 30MB
Minimum height and width:  600 pixels
Ratio: 1:1
Resolution: at least 1080 x 1080 pixels
*Deadline for submissions: July 1, 2023 
Submissions must be emailed to Toni Mitt, Region 3 Marketing Coordinator, at [email protected]
All entries will be evaluated by your Regional Management Team, and the top three submissions will be voted on by choruses of Region 3.
The winner will be announced, and the new logo revealed, at a later date.