Choruses Representing Region 3
Find a Chorus!

Looking for a place to share your singing talent? Whether you're an experienced singer or just like to sing in the shower, if you love to sing, we'd love to meet you! You'll find not only great music and amazing harmonies, but also incredible women, genuine friendships and lots of fun! Reward yourself and visit a local Sweet Adelines chorus today!
From Indiana to Illinois and up into Wisconsin, we have many choruses within reach!
News Around the Region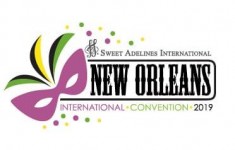 For news around the region, click this link for the March 2018 Harmony Happenings!
The Riverport Chorus of Region 3, is seeking a dynamic, energetic front-line director with solid musical and... more
Mission Statement
Midwest Harmony Region 3 of Sweet Adelines International is dedicated to the advancement of four-part harmony, barbershop-style, for women of all ages, through education and performance.